How to Form an Illinois LLC
Jan. 16, 2019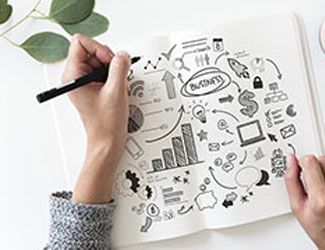 A Limited Liability Company ("LLC") is an excellent vehicle to incorporate your Illinois business due to its hybrid business structure. The members are insulated from personal liability for the debts of the LLC, much like a corporation, but shares some of the same tax benefits of a sole proprietorship. The other benefit is the relative ease of setting up an LLC in Illinois.
Step 1: Pick a name for your LLC. You must search the Illinois Secretary of State to make sure that your chosen LLC name is available. You must include the words "Limited Liability Company" or "LLC" in the name of your business. You can't have your name confuse itself with a government agency, such as FBI, LLC. Lastly, certain LLCs such as those for attorneys or banks may require additional paperwork showing that the individual is licensed (i.e. law license, doctor license, etc).
Step 2: Choose a Registered Agent. You must appoint a registered agent for your LLC. This is the person (or business) that agrees to send and receive legal papers on behalf of your LLC, such as a summons and complaint. Keep in mind if you choose an individual as a registered agent, they must reside in Illinois and if you choose a business, it must be incorporated in Illinois.
Step 3: Prepare your Articles of Organization. This sounds intimidating, it isn't. It is a two-page PDF that is pretty self-explanatory and must be filed with the Illinois Secretary of State. It will include your LLC's address, the members of the LLC, the registered agent, the LLC's business purpose, and the date.
Once this document is prepared, you will file it with the Illinois Secretary of State, either online or via mail and pay the requisite filing fee. This will be an annual fee for the duration of the LLC. The initial filing fee is a bit more than the renewal, but the good news is, Illinois recently cut the initial filing fee as well as the annual report fee in half! As Illinois residents know, that is a rarity.
Step 4: Decide if your LLC will be member-managed or manager-managed. A member-managed LLC affords each member equal rights in the operation of the LLC. In contrast, a manager-managed LLC is where the members elect a person (or persons) to be responsible for the company's business affairs.
Step 5: Create an Operating Agreement. This is optional but recommended. Often times, an LLC will use an attorney to prepare its operating agreement which will delineate the rights and responsibilities of the members of the LLC. In addition, it will outline the ownership and operating procedures of the LLC, should a dispute arise. In the event there is no operating agreement, Illinois has what is known as the LLC Act that will govern should a dispute arise.
This is a short synopsis of how to form an Illinois LLC. We have assisted a variety of business ventures in setting up an LLC and preparing operating agreements on behalf of the new business. Contact us today so we can discuss making sure your new business venture is a successful one!
Resources:
https://www.cyberdriveillinois.com/publications/pdf_publications/c334.pdf
https://www.cyberdriveillinois.com/publications/pdf_publications/llc55.pdf